Sadhana Vidyalaya
---
The sincere efforts of everyone who dreamt about starting this school in one of most sensitive naxalite region bore fruits on the 3rd of August 2015. With a dream to provide best the of education to remotest parts of the country, our new school 'Sadhana Vidyalaya' has started its challenging journey. Currently the school will cater to the needs of 52 children between play-group to 2nd standard. The classes will be held under an open-shed and trees for now. Love, confidence and dreams of all the tribal people is with us.

Here are a few memories we've saved of our journey so far:
Nelgunda: A village in the lap of mother nature
---
Nelgunda is a remote village in the lush green forest of Dandakaranya. The area is blessed with breathtaking natural beauty, but cursed with inaccessibility for half the year, malaria parasites and zero educational opportunities. It is a small village in Bhamragad Tehsil of Gadchiroli District, connected by a 27kms of kaccha road from Bhamragad. Bhamragad is 350 kms away from Nagpur and 200 kms away from Chandrapur as well as Gadchiroli.
Need of the hour!
---
Januray 2015: It was a normal day like any other at Lok Biradari Prakalp. Suddenly we see around 200 tribal men and women pouring in to Lok Biradari at noon. What catches our attention is that all are having a concerned look on their faces After settling down, some men looking like leaders come in and ask for time to talk. These tribal men and women had come from 18 villages requesting for four things:

To restart the weekly market which was forced closed by the police, that meant that the villagers had to walk or cycle 27 kms just to purchase salt. To start a new school as there was no performing school within a radius of 30 kms To establish a primary health centre catering to basic diseases and illnesses To force the government to build a bridge connected these 20 villages as they are inaccessible during monsoons.

Fortunately Lok Biradari Prakalp (A Project of Maharogi Sewa Samiti, Warora) was successful in restarting the weekly market. The bridge construction had severe opposition from the extremist group, and hence could not be pursued further.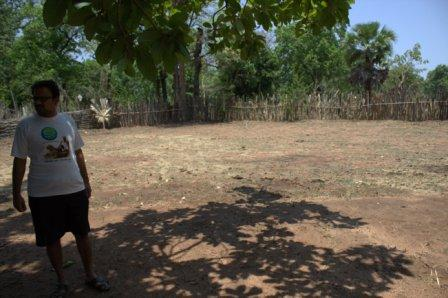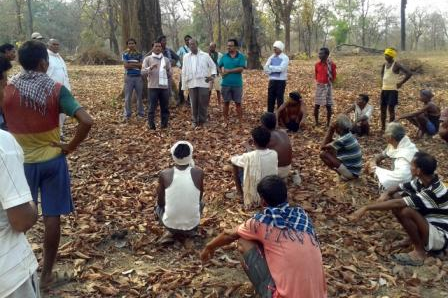 Our Vision for Nelgunda
---
Target population
The Nelgunda residents belong to the Madia community. Madia are a Gondi tribe, of Dravidian race, descended from the Abhujmad hills to the plains of Gadchiroli, originally hunter-gatherers and now doing crude rice-farming. They are indigenous people, predominantly oral, largely monolingual, with minimal culture contacts.

Our Vision
Education and health-care is very essential for a healthy mental and physical upbringing of each and every section of the society. The success of Lok Biradari is a prime example of this school of thought. With the same mantra in our hearts, we intend to start a school and health clinic at Nelgunda; so that even one of the remotest villages in this tribal region gets the means-n-methods of healthy upbringing of their current and future generations.

Implementation Plan
There is an existing modest infrastructure of two rooms initially made for the Zilla Parishad school. The building today stands in a very bad shape and unfit to use. With the active support and participation of the villagers we have been successful in securing a small piece of land to set up the necessary infrastructure. The legal proceedings have also been initiated. Here we plan to construct a modest infrastructure which will gel in with the surroundings and also be usable and sturdy. There is also a need to construct a kitchen-shed cum storage-area, as the school will provide breakfast and lunch to the enrolled children. Usable toilet-blocks (separate for girls and boys) are also required. The school will also provide potable water to the students and staff. A few immediate challenges that the plan must face are:

No roads, no bridges on streams - inaccessible during rainy season
All students first generation school goers
Remote location
Implementation Details
Timeline for project implementation

| Sr.No | Activity | Proposed Date of Completion |
| --- | --- | --- |
| 1 | Acquiring land on lease | ASAP |
| 2 | Construction and furnishing the school building | 1st September 2015 |
| 3 | Appointment of staff and personnel | 1st June 2015 |
| 4 | Start Regular School | 03rd August 2015 |
Personnel and Job charts

| Sr. No. | Position | Responsibilities | Time |
| --- | --- | --- | --- |
| 1 | Director | Complete supervision and content decision, monitoring etc. | Full time |
| 2 | Principal | Looking after day to day activities of the project | Full time |
| 3 | Expert Teachers - 3 | Proficiency in english and maths and basic science | Rotation |
| 4 | Local Teachers - 2 | Proficiency in local languages and expert in child pedagogy | Full time |
| 5 | Helper cum Cook | Prepare meals and breakfast for children | Full time |
Expenses
Recurring Expenditure
Sr. No.
Description
Estimated Monthly Budget (Rs.)
Estimated Annual Budget (Rs.)
1
Salaries
Director
Principal
Expert Teachers - 3
Local Teachers -2
Helper and Cook - 2

90,000
15,000
13,000
12,000
8,000
5,000
10,80,000
2
Meals (for 10 months)
Breakfast for approx. 40 students
@Rs. 15 per student.
Lunch for approx. 40 students
@Rs. 25 per students
72,000

27,000

45,000
7,20,000
3
Stationary and books
For 40 students
@ Rs. 500 per student
30,000
4
Uniform(2 sets)
For 40 students
@ Rs. 250 per student
30,000
Total cost for Year 1
18,60,000
Total cost for Year 2
(with approx 20% increase in student count from year 1)
22,32,000
Total cost for Year 3
(with approx 20% increase in student count from year 2)
26,78,400
Total Recurring Expenses for 3 years
67,70,400
One Time Expenditure
Sr. No.
Expense Description
One Time Cost (Rs.)
1
Construction of rooms + toilet block
50,00,000
2
4-wheel vehicle for commuting teachers and students to/from Hemalkasa
15,00,000
3
Solar Power System and Solar water heater
10,00,000
Total One Time Expenses
75,00,000

Currently 75 students from over 8 villages around Nelgunda area are being educated at Sadhana Vidyalaya. There are 4 classes from Playschool to 3rd standard. We aspire to grow this school upto 5th standard in near future. We are getting overwhelming response from parents and students.
You can help make a change!
---
You can help us raising the funds for this project. To donate please click here.